Veneers in Para Hills
For patients wanting to correct cosmetic imperfections like slightly crooked, misaligned or discoloured teeth, veneers may be an excellent option. Our team of professionals can help you decide which type is best for your needs: Porcelain or Resin.
Porcelain Veneers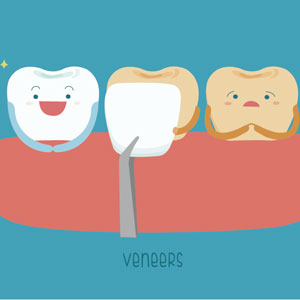 Porcelain veneers are extremely strong and durable with excellent longevity and resistance to staining. Not only do they provide an option to improve the shape and colour of your teeth, they are also able to alter the orientation of your teeth to straighten mild crowding or spacing without braces.
The Veneer Process
Porcelain veneers are constructed over two appointments. In the first appointment, the teeth are prepared with minimal reduction of tooth surface.  An impression is then taken of the prepared teeth and sent to the lab where the veneers will be made.
There are a number of different types of porcelain materials that provide a balance between beautiful aesthetics and functional durability which are utilised to give you the result you want. At the second appointment, the veneers are tried on and shown to you to ensure the shade, shape, orientation and feel are exactly what you want before cementation. Once you are happy with them, they are cemented into place and polished to superior lustre mimicking tooth enamel perfectly.
Resin Veneers
An alternative to porcelain veneers, resin (tooth-coloured filling) can be used to alter the facings of the teeth, with minimal preparation and, like porcelain, can change the colour and orientation of your teeth. As resin veneers are placed and shaped directly on the tooth without the use of a lab, they are placed in a single appointment. We use high-polish filtek supreme XTE resin for all veneers using layering techniques to achieve a highly aesthetic result.
All of our dentists are highly experienced in placing both resin and porcelain veneers. Please do not hesitate to contact our clinic for a consultation to see whether veneers are suitable for whitening, re-shaping or straightening your teeth!
McIntyre Dental Clinic | Dental Veneers Para Hills | (08) 8258 3883